Women's S-Works Tarmac Frameset
It's simple—when someone attacks on a climb, you want to respond quickly and with confident assurance. And when it's you who's breaking away, you need to accelerate with snappy intensity and leave everyone in your wake. The Women's S-Works Tarmac frameset is born to race to any strategy, and it's at the absolute top of the women's race bike heap in terms of performance, quality, technology, and handling. It's a true competitor's dream—now able to be built up with the spec of your choice.
We started by improving our Rider-First Engineered™ technology to ensure that the Tarmac SL6 is stiff and compliant in exactly the right places. With this revamp, we also updated the geometry—basing it on countless Retül data points and professional rider input. This enabled us to develop a performance road geometry that perfects the combination of a responsive front-end and short wheelbase, delivering instantaneous response and optimal power transfer. And while stiffness aids in the aforementioned, compliance must also be utilized for an optimal ride quality. That's why we designed a seatpost that builds compliance into the upper 120mm where clamping doesn't happen, drops the seatstays, and alters the seat tube shape. We also added tire clearance up to 30mm, which translates to a 28mm Specialized tire on a Roval CLX 50 wheel. This allows lower pressures for decreased rolling resistance, increased traction, and more comfort.
To get the weight of the SL6 as low as possible, we utilized advanced aerospace composite optimization software to revolutionize the construction and layup of our new FACT 12r carbon. It's the most advanced material and schedule we've ever made—incorporating 500 pieces over the 300-piece design of past models.
And while this is all great, we know that aerodynamics are the most important thing we can do to make you faster. Our pro riders, after all, are demanding aero improvements on every bike. With this, the aero goal was to discover where we could essentially "add aero for free," by not taking anything away from the hallmarks of the Tarmac design. During the six-month iterative process, three areas were discovered where we could do this—a new fork shape, dropped seatstays with aero tubes, and a d-shaped seatpost and seat tube. The result? A bike that's approximately 45 seconds faster over 40km compared to other lightweight bikes in the same category.
This frameset includes an S-Works FACT carbon seatpost with a 20mm offset, electronic-specific cable routing, 130mm rear spacing, and superlative OSBB CeramicSpeed bearings.
Featuring our Rider-First Engineered™ design that ensures every frame size has the same legendary climbing responsiveness and descending prowess you'd expect from a Women's Tarmac. The S-Works FACT 12r frameset is our highest quality carbon frame, offering the ideal blend of light overall weight and targeted stiffness.
S-Works-specific FACT full carbon fork with tapered construction provides incredible front end stiffness and steering response for instantaneous accelerations and high-speed descents.
With its high-modulus construction, the S-Works FACT carbon Tarmac seatpost provides impeccable power transfer, while still allowing for ample compliance for long days in the saddle.
Technical Specifications
| | |
| --- | --- |
| FRAME | S-Works Tarmac SL6, FACT 12r carbon, Rider-First Engineered™, OSBB, clean routing, internally integrated seat clamp, 130mm rear spacing |
| | |
| --- | --- |
| SEAT BINDER | Tarmac SL6 clamp assembly |
| SEATPOST | S-Works FACT Carbon Tarmac seatpost, 20mm offset |
| | |
| --- | --- |
| BOTTOM BRACKET | OSBB, CeramicSpeed bearings |
* Specifications are subject to change without notice
Geometry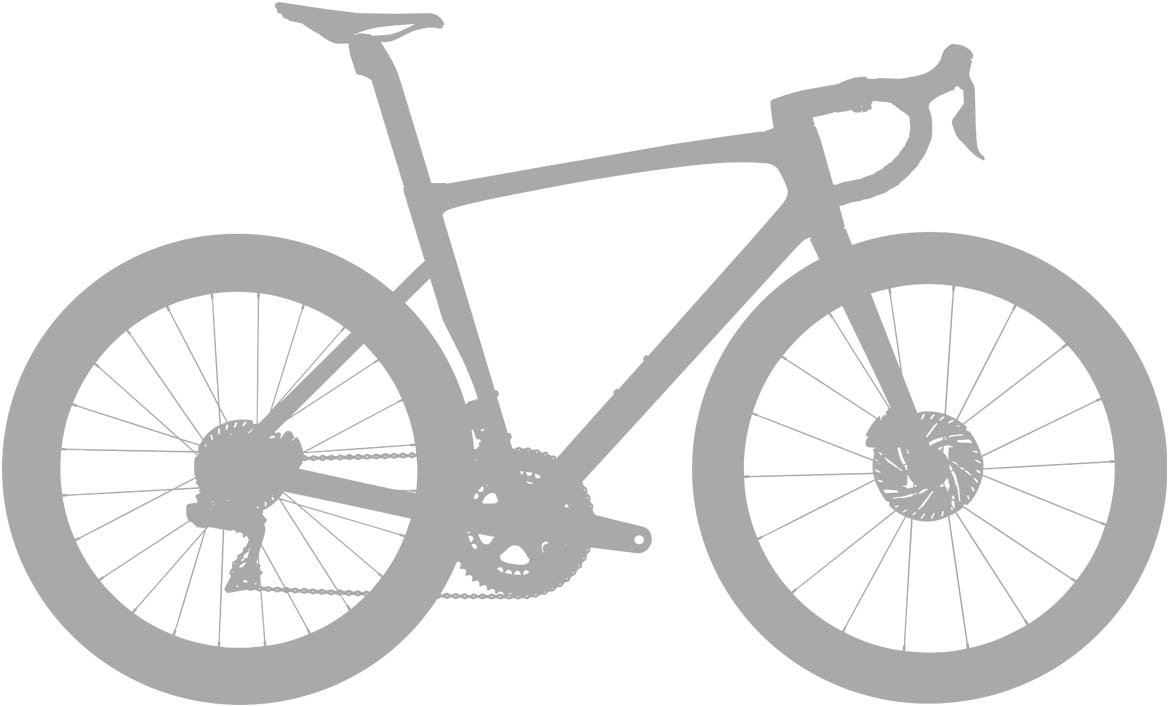 Tarmac SL6 - Geometry
| | 44 | 49 | 52 | 54 | 56 | 58 | 61 |
| --- | --- | --- | --- | --- | --- | --- | --- |
| Seatpost Length | 320mm | 320mm | 320mm | 380mm | 380mm | 320mm | 320mm |
| Reach | 365mm | 375mm | 380mm | 384mm | 395mm | 402mm | 408mm |
| Top Tube Length, Horizontal | 490mm | 508mm | 531mm | 540mm | 562mm | 577mm | 595mm |
| Stack | 500mm | 514mm | 527mm | 544mm | 565mm | 591mm | 612mm |
| Wheelbase | 964mm | 968mm | 970mm | 973mm | 985mm | 1002mm | 1012mm |
| Chainstay Length | 405mm | 405mm | 405mm | 405mm | 405mm | 407mm | 410mm |
| Front Center | 571mm | 574mm | 577mm | 579mm | 591mm | 606mm | 613mm |
| BB Drop | 74mm | 74mm | 74mm | 72mm | 72mm | 72mm | 72mm |
| BB Height | 266mm | 266mm | 266mm | 268mm | 268mm | 268mm | 268mm |
| Seat Tube Angle | 76&deg | 75.5&deg | 74&deg | 74&deg | 73.5&deg | 73.5&deg | 73&deg |
| Head Tube Angle | 70.5&deg | 71.75&deg | 72.5&deg | 73&deg | 73.5&deg | 73.5&deg | 74&deg |
| Seat Tube Length | 400mm | 431mm | 462mm | 481mm | 501mm | 522mm | 553mm |
| Head Tube Length | 105mm | 115mm | 126mm | 143mm | 163mm | 190mm | 210mm |
| Bike Standover Height | 730mm | 740mm | 755mm | 775mm | 795mm | 826mm | 850mm |
| Fork Rake/Offset | 47mm | 47mm | 47mm | 44mm | 44mm | 44mm | 44mm |
| Fork Length, Full | 363mm | 363mm | 363mm | 363mm | 363mm | 363mm | 363mm |
| Trail | 71mm | 63mm | 58mm | 58mm | 55mm | 55mm | 52mm |
Rider Reviews
Based on {0} Reviews
Filter Reviews