Contact your local retailer for store hours & COVID-19 safety measures.
S-Works Shiv TT Module
Part No.:
With five UCI World Championship Time Trial gold medals, seven Tour De France Time Trial stage wins, and an innumerable amount of other Grand Tour stage wins, the S-Works Shiv TT is one of the most decorated bikes in history.
And while it's palmarès proceed it, to ensure you're on the fastest machine out there we've developed a new fork in accordance with the UCIs new rules, as well as a new frame layup that saves a significant amount of weight.
The frame and fork, of course, stays 100% UCI-legal and is built from our FACT 11r carbon fiber, making it not only a wind-cheating weapon, but also an exceptionally stiff chassis that ensures all of your power output gets translated into unwavering speed. And with a wide range of fit options that are designed to maximize comfort and power output, the S-Works Shiv TT Module becomes the perfect canvas to start constructing your TT dream rig.
The S-Works FACT 11r carbon frame features our most advanced carbon construction methods in order to reduce aerodynamic drag and optimize rider input and overall stiffness—all while staying within the UCIs regulations. A new carbon fiber layup schedule has been employed to reduce weight, while the oversized bottom bracket ensures maximum power transfer and rigidity. Please note that this frame is now design to only be compatible with electronic shift systems.
The S-Works FACT carbon fork has been redesigned to be more aerodynamic, all while staying within the UCIs regulations.
Technical Specifications
| | |
| --- | --- |
| FRAME | S-Works FACT 11r carbon, OSBB |
| | |
| --- | --- |
| FORK | S-Works FACT carbon, full monocoque, UCI-legal |
| | |
| --- | --- |
| HANDLEBARS | Specialized Carbon Aerobar, UCI-legal |
| SEATPOST | Specialized Shiv Team, straight/forward offset, 400mm |
| SEAT BINDER | Integrated w/ frame |
| | |
| --- | --- |
| FRONT BRAKE | Specialized Aero, center pull |
| REAR BRAKE | Shiv rim caliper |
| | |
| --- | --- |
| BOTTOM BRACKET | OSBB, CeramicSpeed bearings |
* Specifications are subject to change without notice
Geometry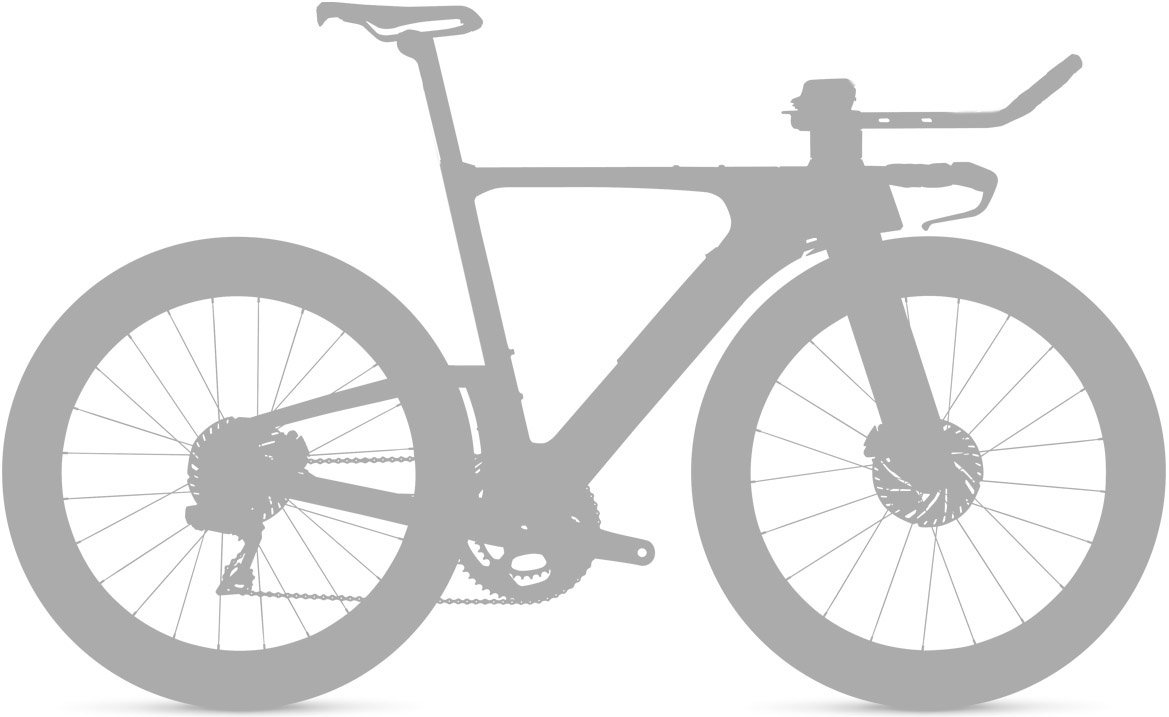 Shiv TT - Geometry
| | XS | S | M | L |
| --- | --- | --- | --- | --- |
| Crank Length | - | - | - | - |
| Seatpost Length | 400mm | 400mm | 400mm | 400mm |
| Handlebar Width | - | - | - | - |
| Reach | 375mm | 390mm | 405mm | 420mm |
| Top Tube Length, Horizontal | 510mm | 529mm | 539mm | 547mm |
| Stack | 488mm | 502mm | 502mm | 502mm |
| Wheelbase | 956mm | 965mm | 980mm | 995mm |
| Chainstay Length | 390mm | 390mm | 390mm | 390mm |
| Front Center | 578mm | 587mm | 601mm | 616mm |
| BB Drop | 72mm | 72mm | 72mm | 72mm |
| BB Height | 258mm | 258mm | 258mm | 258mm |
| Seat Tube Angle | 74.5&deg | 74.5&deg | 75&deg | 75.75&deg |
| Head Tube Angle | 70.75&deg | 72&deg | 72&deg | 72&deg |
| Seat Tube Length | 504mm | 565mm | 563mm | 561mm |
| Head Tube Length | 90mm | 100mm | 100mm | 100mm |
| Bike Standover Height | 745mm | 806mm | 806mm | 806mm |
| Fork Rake/Offset | 50mm | 50mm | 50mm | 50mm |
| Fork Length, Full | 367mm | 367mm | 367mm | 367mm |
| Trail | 62mm | 55mm | 55mm | 55mm |