Contact your local retailer for store hours & COVID-19 safety measures.
Due to the Covid-19 situation, delivery of your order can take longer than usual. Our apologies in advance.
With seven wins at Paris-Roubaix, our Roubaix has proven that Smoother is Faster. Until this moment, however, smooth has admittedly come with some compromises. But not anymore. The all-new Roubaix now delivers compliance without compromise by introducing a radical new Future Shock 1.5 that gives you more control on rough roads, a new Pavé seatpost that creates our most balanced Roubaix to date, aerodynamics that equal the Tarmac, and a Rider-First Engineered™ frame that's shed some serious weight. Is it still comfortable? Sure, but don't call it a comfort bike, because performance was behind every engineering decision we made. This is the new Roubaix.
This Roubaix provides a tremendous value, but like the frame itself, this value doesn't come with any compromises. We spec'd it with Shimano's Tiagra 10-speed group for its crisp shifts and powerful hydraulic disc brakes, as well as reliable Axis Elite Disc wheels, a Praxis Alba crankset, the all-new S-Works Pavé seatpost, 28mm Espoir Sport tires, and our fan-favorite Power Sport saddle.
The new frame delivers compliance without compromise via the perfect balance of aerodynamics, light overall weight via a FACT 10r carbon construction, compliance, and Rider-First Engineering. With tube shapes that were born in our FreeFoil Shape Library and validated in the Win Tunnel, the new Roubaix is more aero than the Tarmac SL6. Meanwhile, to ensure the weight and ride quality, we turned to a Rider-First Engineered™ design to deliver optimal stiffness and compliance across all sizes, from 44 to 64cm. Of course, the frame has shed some serious weight in the process. And to prep you for your own Hell of the North, we've made room for 33mm tires.
To go along with the new frame, we've also developed a totally-new S-Works Pavé seatpost. Not only is it the first compliant seatpost that's ALSO aerodynamic, it does so without any additional weight or finicky contraptions. Starting with the same D-shape design found on the Tarmac, we took its compliance a step further by building additional flex into the upper and developing a new drop-clamp design in the frame. This provides plenty of compliance, while staying perfectly balanced with the front-end, so you get a smooth, balanced ride no matter how rough the road.
With 20mm of rough-road-taming travel, the Future Shock 1.5 not only delivers a smoother, more comfortable ride, but it also reduces fatigue and increases speed over harsh terrain. The new Smooth Boot, meanwhile, enhances the aesthetics to bring a clean transition from the head tube to the stem
Technical Specifications
| | |
| --- | --- |
| FRAME | FACT 10R, Rider First Engineered™ (RFE), FreeFoil Shape Library tubes, threaded BB, 12x142mm thru-axle, flat-mount disc |
| | |
| --- | --- |
| FORK | Future Shock 1.5 w/ Smooth Boot, 12x100mm thru-axle, flat-mount disc |
| | |
| --- | --- |
| HANDLEBARS | Specialized Hover Comp Alloy Bar, 125 Drop x 75 Reach |
| STEM | Future Stem, Comp |
| TAPE | Roubaix S-Wrap |
| SADDLE | Body Geometry Power Sport, steel rails |
| SEATPOST | S-Works Pave |
| SEAT BINDER | Hidden drop clamp |
| | |
| --- | --- |
| SHIFT LEVERS | Shimano Tiagra Disc 4720, 10-speed |
| FRONT DERAILLEUR | Shimano Tiagra, braze-on |
| REAR DERAILLEUR | Shimano Tiagra, 10-speed |
| CRANKSET | Praxis Alba |
| CHAINRINGS | Praxis, 46T, 110BCD |
| BOTTOM BRACKET | Praxis 68-0201B, 68mm BSA |
| CHAIN | KMC X10, 10-Speed |
| | |
| --- | --- |
| FRONT WHEEL | Axis Elite Disc |
| REAR WHEEL | Axis Elite Disc |
| FRONT TIRE | Specialized Turbo Sport, 700x28 |
| REAR TIRE | Specialized Sport, 700x28 |
| INNER TUBES | Presta, 48mm valve |
* Specifications are subject to change without notice
Geometry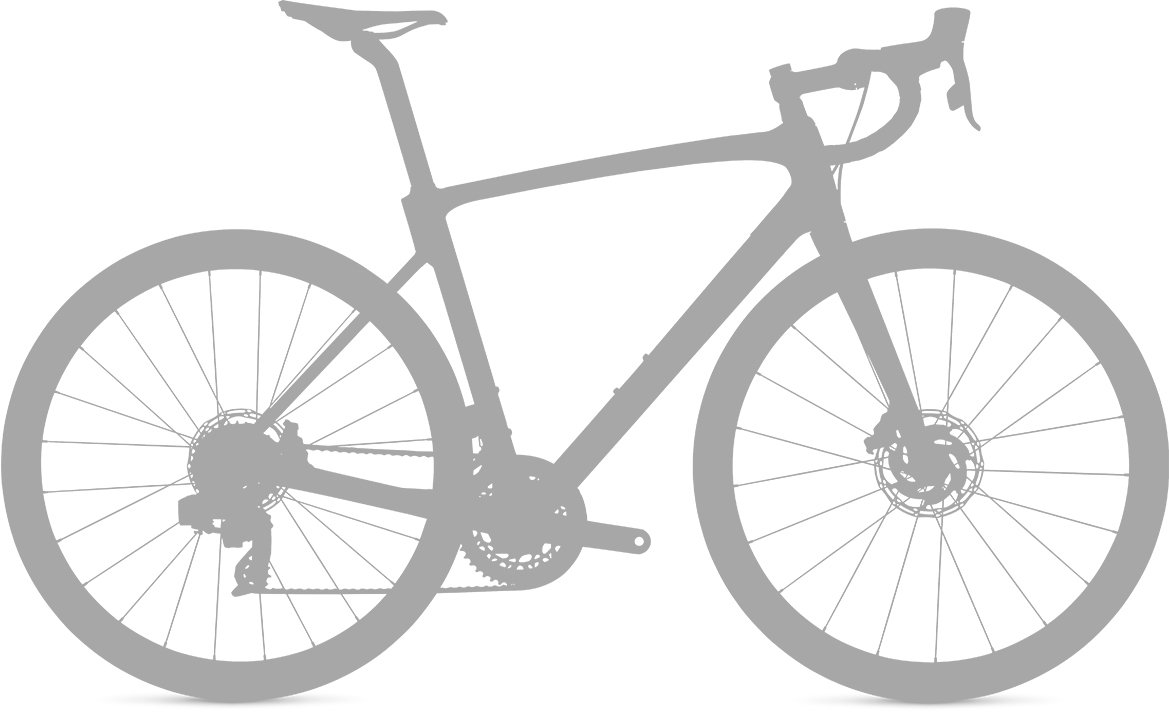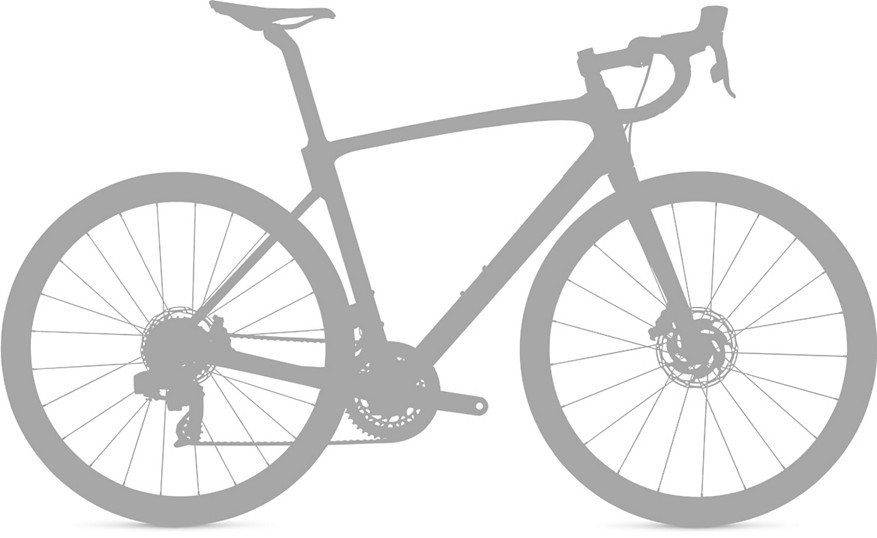 Roubaix - Geometry
| | 44 | 49 | 52 | 54 | 56 | 58 | 61 |
| --- | --- | --- | --- | --- | --- | --- | --- |
| Crank Length | 165mm | 165mm | 170mm | 172.5mm | 172.5mm | 175mm | 175mm |
| Stem Length | 70mm | 80mm | 90mm | 100mm | 100mm | 110mm | 110mm |
| Seatpost Length | 380mm0000108424mm | 380mm0000108424mm | 380mm0000108424mm | 380mm0000108424mm | 380mm0000108424mm | 380mm0000108424mm | 450mm |
| Saddle Width | 155mm | 155mm | 155mm | 143mm | 143mm | 143mm | 143mm |
| Handlebar Width | 360mm | 380mm | 400mm | 420mm | 420mm | 440mm | 440mm |
| Reach | 353mm | 363mm | 368mm | 376mm | 384mm | 392mm | 398mm |
| Top Tube Length, Horizontal | 512mm | 525mm | 533mm | 545mm | 563mm | 579mm | 595mm |
| Stack | 540mm | 555mm | 570mm | 585mm | 605mm | 630mm | 665mm |
| Wheelbase | 981mm | 982mm | 986mm | 988mm | 995mm | 1014mm | 1024mm |
| Chainstay Length | 413mm | 413mm | 413mm | 415mm | 415mm | 418mm | 418mm |
| Front Center | 580mm | 581mm | 586mm | 585mm | 592mm | 607mm | 618mm |
| BB Drop | 77.5mm | 77.5mm | 77.5mm | 76mm | 76mm | 74.5mm | 74.5mm |
| BB Height | 265mm | 265mm | 265mm | 266mm | 266mm | 268mm | 268mm |
| Seat Tube Angle | 74&deg | 74&deg | 74&deg | 74&deg | 73.5&deg | 73.5&deg | 73.5&deg |
| Head Tube Angle | 70&deg | 71.5&deg | 72&deg | 72.75&deg | 73.5&deg | 73.5&deg | 74&deg |
| Seat Tube Length | 365mm | 410mm | 446mm | 465mm | 485mm | 505mm | 547mm |
| Head Tube Length | 90mm | 100mm | 112mm | 125mm | 143mm | 170mm | 205mm |
| Bike Standover Height | 682mm | 715mm | 743mm | 762mm | 783mm | 805mm | 844mm |
| Fork Rake/Offset | 50mm | 50mm | 50mm | 44mm | 44mm | 44mm | 44mm |
| Fork Length, Full | 370mm | 370mm | 370mm | 370mm | 370mm | 370mm | 370mm |
| Trail | 71mm | 62mm | 59mm | 61mm | 55mm | 55mm | 52mm |