Contact your local retailer for store hours & COVID-19 safety measures.
S-Works Tarmac SL6 Disc Frameset - Sagan Collection Mirror LTD
Part No.
S-Works Tarmac SL6 Disc Frameset - Sagan Collection Mirror LTD
Peter Sagan's been chasing rainbows for years—sometimes successfully, and other times, just out of reach. But in the process, he's become the one rider everyone's looking for. Sometimes he's wreaking havoc at the front of the race, but mostly, he's blending like a panther waiting for the right moment to attack.
With the Sagan Collection S-Works Tarmac Replica frame, we've taken the undertones of the Underexposed collection and the loud side of the Overexposed collection and combined them into one. This showcases the two sides of Peter on a bike that he'll be racing for all of 2019.
It's time to start chasing your own rainbows with the Sagan Collection.
For the construction of the Tarmac Disc, we utilized advanced aerospace composite optimization software to revolutionize the construction and layup of our new FACT 12r carbon. It's the most advanced material, and schedule, we've ever made, and this allowed us to shed nearly 200 grams—that's right, a 20% reduction in frame weight.
500 pieces creating 7 different sizes with the same tuned ride–that's Rider-First Engineered™. We examine every ply of carbon on every frame size to ensure that all of our performance targets come through. To make sure you get the perfect ride, every frame gets a unique layup schedule with different ply arrangements, orientations, quantities of material in specific areas, and sometimes, even exclusive thicknesses and types of carbon itself.
Aerodynamics is the most important thing we can do to make you faster, but with the Tarmac, we added aero features without any cost to weight. Through development, three areas were discovered where we could add aero for free—a new fork shape, dropped seatstays with aero tubes, and a D-shaped seatpost and seat tube. The result? A Tarmac that's approximately 45 seconds faster over 40 kilometers.
The updated the geometry is based on countless Retül data points and professional rider input. This enabled us to develop a Performance Road Geometry that perfects the combination of a responsive front-end and short wheelbase, which delivers instantaneous response and optimal power transfer.
For additional compliance, the seatpost has flex built-into the upper 120mm where clamping doesn't happen. We also dropped the seatstays, altered the seat tube shape, and added tire clearance up to 30mm.
Technical Specifications
| | |
| --- | --- |
| FRAME | FACT 12r carbon fiber, Rider-First Engineered™, OSBB, clean routing, internally integrated seat clamp, 12x142mm thru-axle, flat-mount disc |
| | |
| --- | --- |
| FORK | S-Works FACT carbon, 12x100mm thru-axle, flat-mount disc |
| | |
| --- | --- |
| SEATPOST | S-Works FACT carbon Tarmac seatpost, 20mm offset |
| SEAT BINDER | Tarmac SL6 clamp assembly |
| | |
| --- | --- |
| BOTTOM BRACKET | OSBB, CeramicSpeed bearings |
* Specifications are subject to change without notice
The Sagan Collection
Geometry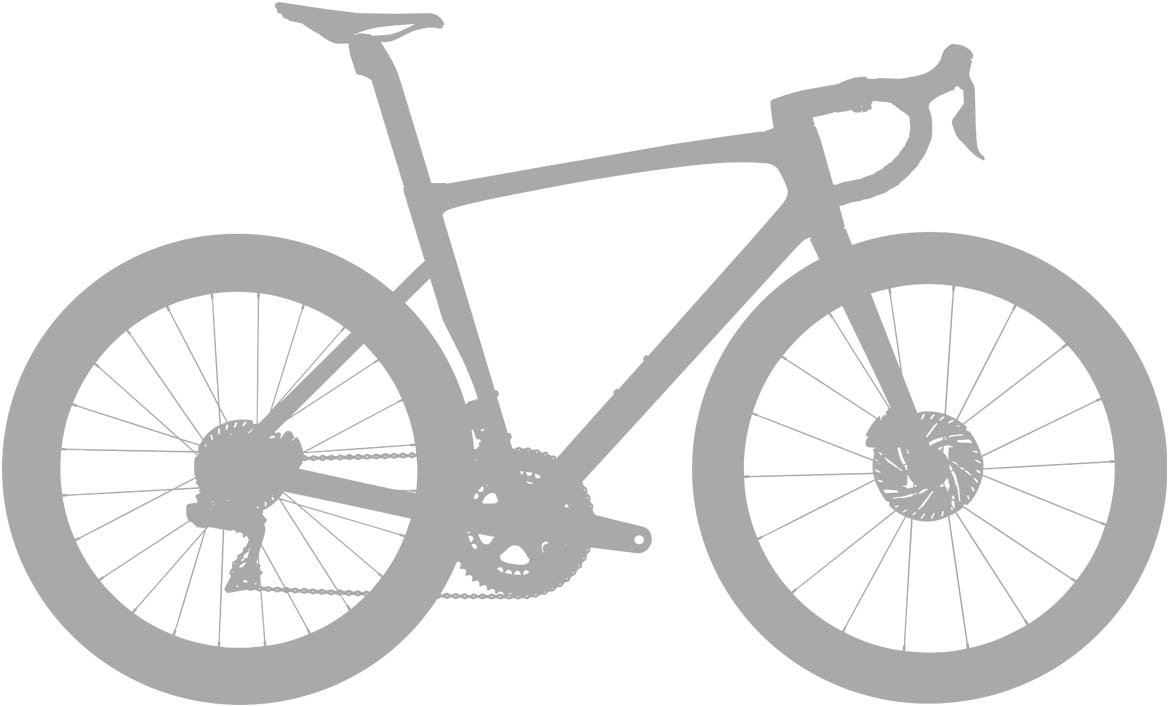 Tarmac SL6 - Geometry
| | 44 | 49 | 52 | 54 | 56 | 58 | 61 |
| --- | --- | --- | --- | --- | --- | --- | --- |
| Seatpost Length | 320mm | 320mm | 320mm | 380mm | 380mm | 380mm | 380mm |
| Reach | 365mm | 375mm | 380mm | 384mm | 395mm | 402mm | 408mm |
| Top Tube Length, Horizontal | 490mm | 508mm | 531mm | 540mm | 562mm | 577mm | 595mm |
| Stack | 500mm | 514mm | 527mm | 544mm | 565mm | 591mm | 612mm |
| Wheelbase | 969mm | 973mm | 975mm | 978mm | 990mm | 1005mm | 1012mm |
| Chainstay Length | 410mm | 410mm | 410mm | 410mm | 410mm | 410mm | 410mm |
| Front Center | 571mm | 574mm | 577mm | 579mm | 591mm | 606mm | 613mm |
| BB Drop | 74mm | 74mm | 74mm | 72mm | 72mm | 72mm | 72mm |
| BB Height | 266mm | 266mm | 266mm | 268mm | 268mm | 268mm | 268mm |
| Seat Tube Angle | 76&deg | 75.5&deg | 74&deg | 74&deg | 73.5&deg | 73.5&deg | 73&deg |
| Head Tube Angle | 70.5&deg | 71.75&deg | 72.5&deg | 73&deg | 73.5&deg | 73.5&deg | 74&deg |
| Seat Tube Length | 400mm | 431mm | 462mm | 481mm | 501mm | 522mm | 553mm |
| Head Tube Length | 105mm | 115mm | 126mm | 143mm | 163mm | 190mm | 210mm |
| Bike Standover Height | 730mm | 740mm | 755mm | 775mm | 795mm | 826mm | 850mm |
| Fork Rake/Offset | 47mm | 47mm | 47mm | 44mm | 44mm | 44mm | 44mm |
| Fork Length, Full | 363mm | 363mm | 363mm | 363mm | 363mm | 363mm | 363mm |
| Trail | 71mm | 63mm | 58mm | 58mm | 55mm | 55mm | 52mm |