DEMO 8 FSR LTD 650B FRAME
零件編號
下坡需要勇氣以及值得信賴的下坡車,我們了解你希望自己的下坡車可以在任何細節都完美,在此我們向您介紹我們經典的Demo 8 鋁合金車架,由Troy Lee設計的限量配色,採用了M5鋁合金,兼具剛性與輕量化,獨一無二的配色搭配1.5吋頭管兼具多項優勢。在騎乘的部分則採用S3幾何,以及非對稱性的車架設計,可輕易地維護保養、上管有相當充裕的空間可以增加操控性、極短、好操控的後下叉,低重心的五通可讓你隨時保持穩定性,以及非常向後仰的前端幾何提供高速時絕佳的操控反應。關於避震器,此款Demo搭配200mm後避震行程的Öhlins避震器。整體來說,這是一款極具改裝空間的性能機器。根據你的喜好來組裝,並且強力的發揮他的性能。
M5 alloy construction works in tandem with our S3 Geometry, an asymmetric frame design, and a 1.5" forged head tube to create the ultimate race machine. The design is relatively compact in order increase maneuverability and responsiveness, while the 200mm of travel at the rear makes the bike capable of taking on the biggest of hits in stride. And to fill out all of the details that make the difference on race day, we've included an ISCG '05 mount for chain guides and a rear derailleur protector to keep you shifting smoothly through rock gardens and unexpected strikes.
Custom Öhlins rear shock delivers unparalleled DH performance. It offers high/low speed compression adjust that stands independent of the rebound adjust, enabling you to fine-tune the shock for the track at hand. It's 200mm of coil-sprung travel that stands without rival, and you won't find anywhere else.
Thomson alloy seatpost features one of the most durable constructions out there, without coming at the expense of a high overall weight.
技術規格
| | |
| --- | --- |
| REAR SHOCK | Custom Öhlins TTX, Twin-Tube desgin, high and low-speed compression adjust, rebound adjust, 9.5x3"" |
| | |
| --- | --- |
| BOTTOM BRACKET | SRAM BB30, 83mm |
| | |
| --- | --- |
| SEATPOST | Thomson, alloy, straight, 12-degree clamp |
| | |
| --- | --- |
| SEAT BINDER | Alloy, 36.9mm |
| FRAME | M5 alloy, S3 Geometry, carbon link and seatstay, BB30, full internal cable routing, 135mm dropouts, lipped and sealed cartridge bearing pivots, replaceable derailleur hanger, 200mm of travel |
* 规格如有更改不再另行通知
幾何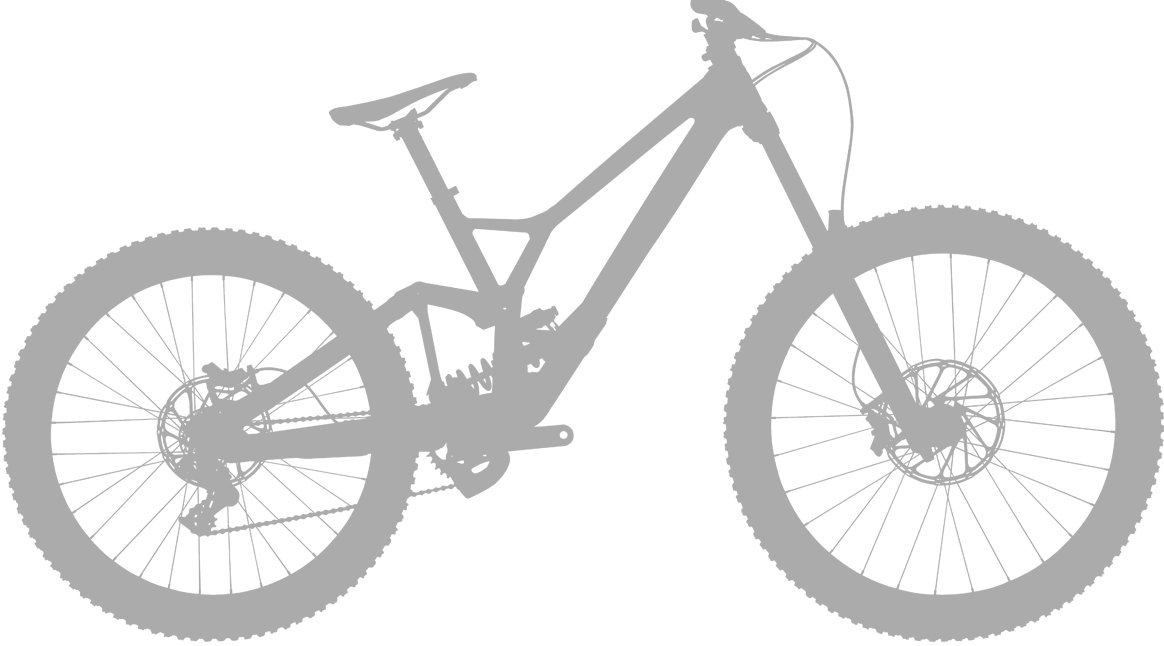 Demo - 幾何
| | SHORT | MEDIUM | LONG | EXTRA LONG |
| --- | --- | --- | --- | --- |
| Seatpost Length | 367mm | 367mm | 367mm | 367mm |
| Reach | 395mm | 420mm | 440mm | 460mm |
| Stack | 614mm | 614mm | 614mm | 614mm |
| Wheelbase | 1183mm | 1208mm | 1228mm | 1248mm |
| Bike Stand-Over Height | 698mm | 698mm | 698mm | 698mm |
| Head-Tube Length | 105mm | 105mm | 105mm | 105mm |
| Front-Center | 754mm | 779mm | 799mm | 819mm |
| Fork Rake/Offset | 52mm | 52mm | 52mm | 52mm |
| Head-Tube Angle | 63.5&deg | 63.5&deg | 63.5&deg | 63.5&deg |
| Trail | 118mm | 118mm | 118mm | 118mm |
| Chain-Stay Length | 430mm | 430mm | 430mm | 430mm |
| B-B Height | 342mm | 342mm | 342mm | 342mm |
| Seat-Tube Angle | 74&deg | 74&deg | 74&deg | 74&deg |
| Fork Length (full) | 590mm | 590mm | 590mm | 590mm |
| B-B Drop | 12mm | 12mm | 12mm | 12mm |
| Seat-Tube Length | 367mm | 367mm | 367mm | 367mm |
| Top-Tube Length (horizontal) | 571mm | 596mm | 616mm | 636mm |