Contact your local retailer for store hours & COVID-19 safety measures.
For years, your race bike selection was limited to stiff and snappy or compliant and comfortable—that is, until the new Roubaix. Featuring a completely Rider-First Engineered™ frame, our Future Shock technology, and a top-level build kit, the S-Works Roubaix with Shimano Dura-Ace Di2 is right at home at a local fondo, a Saturday group ride, or a cobbled road race.
The frame is one of the lightest that we've ever made, and it's been constructed from our top-tier FACT 11r carbon fiber. Its stiffness levels are also off the charts, and compared to the SL4 iteration of yesteryear, you'll experience a whole new, faster, and more efficient geometry. Through some sophisticated engineering, however, we've managed to keep the same fit, feel, and position that we've all come to love from the SL4, and kept it consistent throughout the size-range with our Rider-First Engineered™ construction.
Of course, you're probably thinking, "get on to the suspension thing up front." We call it Future Shock, and essentially, it's a piston in the head tube with 20mm of travel. We developed this technology in partnership with McLaren Applied Technologies, and the result of this are a host of drastic performance improvements, namely in the vertical compliance department. Without giving a physics lecture, we found that focusing on vertical compliance, instead of fork splay, meant that we could improve smoothness, speed, and comfort in one fell swoop. And of all the bikes that we've tested with our Rolling Efficiency Model, the Roubaix outperforms anything on the market.
We spec'd our cobble-crushing S-Works frame with the legendary performance of the Shimano Dura-Ace 9150 Di2 electronic build kit and 9170 hydraulic disc brakes, a full assortment of S-Works bits, and hand-built Roval CLX 32s with the legendary CeramicSpeed bearings and custom hubs. Add it all up, and you get a race bike at heart, with the technology to float over the roughest roads.
Features our Rider-First Engineered™ design that ensures every frame size has the same legendary responsiveness and smooth ride quality that you'd expect from a Roubaix. The S-Works FACT 11r frameset is our highest quality carbon frame, offering the ideal blend of light overall weight and targeted stiffness, while the all-new Future Shock "suspension" system at the cockpit delivers a revolutionary degree of comfort and control.
Shimano's Dura-Ace group offers exceptionally crisp shifts, smooth braking modulation, and it keeps the overall weight of this Roubaix at an absolute minimum.
The Roval CLX 32 wheelset is the perfect balance of light weight, durability, and aerodynamics. It's stiff enough for sprinting, strong enough for abuse, and its CeramicSpeed bearings keep things silky-smooth, making them the ultimate all-rounders.
Technical Specifications
| | |
| --- | --- |
| FORK | Specialized FACT carbon, 12x100mm thru-axle |
| | |
| --- | --- |
| HANDLEBARS | S-Works Carbon Hover Drop, 125x75mm |
| STEM | S-Works SL, alloy, titanium bolts, 6-degree rise |
| TAPE | S-Wrap Roubaix w/ sticky gel |
| SADDLE | Body Geometry S-Works Phenom, carbon rails, 143mm |
| SEATPOST | S-Works CG-R, FACT carbon fiber, single-bolt, 27.2mm |
| | |
| --- | --- |
| REAR BRAKE | Shimano Dura-Ace, hydraulic disc |
| FRONT BRAKE | Shimano Dura-Ace, hydraulic disc |
| | |
| --- | --- |
| REAR DERAILLEUR | Shimano Dura-Ace Di2 R9150, 11-speed |
| FRONT DERAILLEUR | Shimano Dura-Ace Di2 R9150, braze-on |
| SHIFT LEVERS | Shimano Dura-Ace Di2 Disc R9170 |
| CASSETTE | Shimano Dura-Ace R9100, 11-speed, 11-30t |
| CHAINRINGS | 50/34T |
| CRANKSET | Shimano Dura-Ace R9100, HollowTech 2, 11-speed |
| BOTTOM BRACKET | CeramicSpeed |
| CHAIN | Shimano Dura-Ace, 11-speed |
| | |
| --- | --- |
| REAR WHEEL | Roval CLX 32 Disc, Win Tunnel Engineered, carbon rim, 32mm depth, Roval AFD hub, CeramicSpeed bearings, 24h |
| FRONT WHEEL | Roval CLX 32 Disc, Win Tunnel Engineered, carbon rim, 32mm depth, Roval AFD hub, CeramicSpeed bearings, 21h |
| REAR HUB | Roval CLX32 tubeless valve stem |
| REAR TIRE | Turbo Cotton, 700x28 |
| FRONT TIRE | Turbo Cotton, 700x28 |
| INNER TUBES | Presta, 48mm valve |
| | |
| --- | --- |
| PEDALS | Nylon, 105x78x28mm, loose ball w/reflectors |
* Specifications are subject to change without notice
Geometry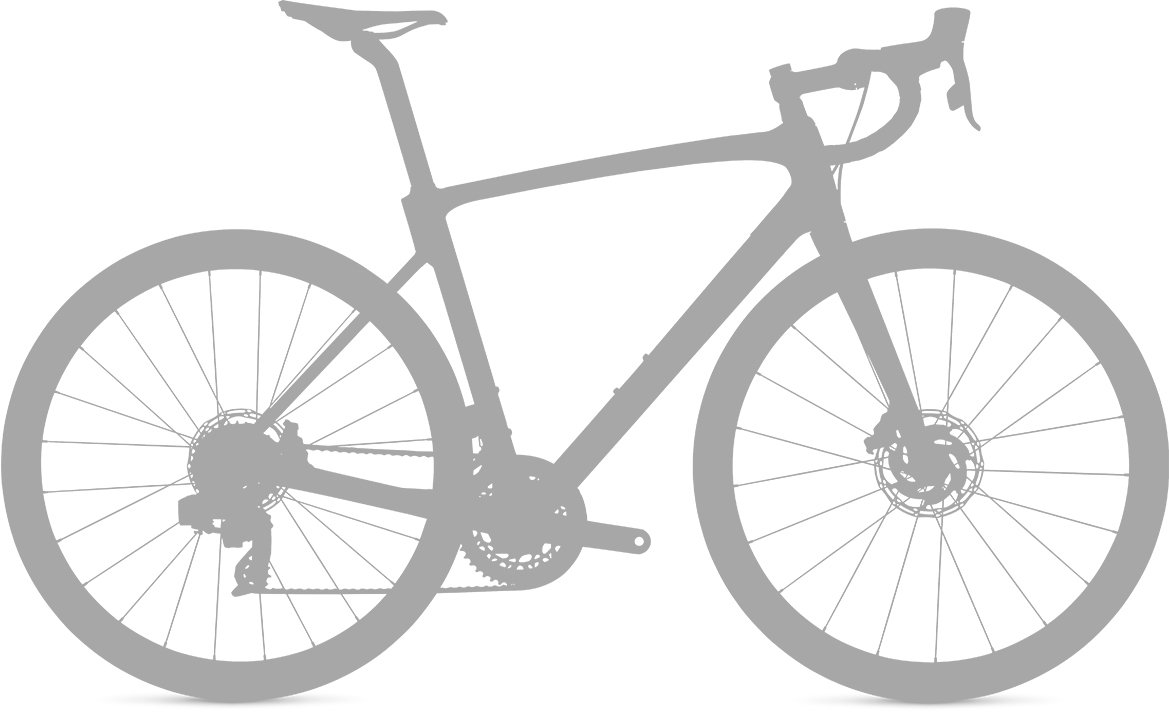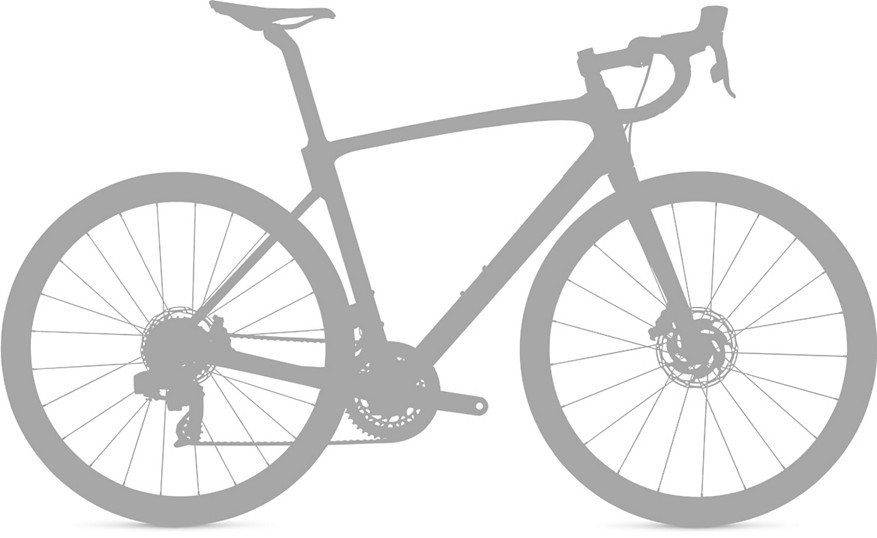 Roubaix - Geometry
| | 49 | 52 | 54 | 56 | 58 | 61 |
| --- | --- | --- | --- | --- | --- | --- |
| Crank Length | 170mm | 170mm | 172.5mm | 172.5mm | 175mm | 175mm |
| Stem Length | 80mm | 90mm | 100mm | 100mm | 110mm | 110mm |
| Seatpost Length | 350mm | 350mm | 400mm | 400mm | 450mm | 450mm |
| Saddle Width | 143mm | 143mm | 143mm | 143mm | 143mm | 143mm |
| Handlebar Width | 400mm | 420mm | 420mm | 420mm | 440mm | 440mm |
| Reach | 369mm | 371mm | 375mm | 381mm | 386mm | 392mm |
| Top Tube Length, Horizontal | 527mm | 534.9mm | 545mm | 561.8mm | 576.3mm | 588.5mm |
| Stack | 549mm | 569mm | 585mm | 611mm | 644mm | 665mm |
| Wheelbase | 981mm | 987mm | 987mm | 993mm | 1011mm | 1018mm |
| Chainstay Length | 413mm | 413mm | 415mm | 415mm | 418mm | 418mm |
| Front Center | 580mm | 586mm | 584mm | 590mm | 605mm | 612mm |
| BB Drop | 77.5mm | 77.5mm | 76mm | 76mm | 74.5mm | 74.5mm |
| Seat Tube Angle | 74&deg | 74&deg | 74&deg | 73.5&deg | 73.5&deg | 73.5&deg |
| Head Tube Angle | 72&deg | 72.25&deg | 72.75&deg | 73.5&deg | 73.5&deg | 74&deg |
| Head Tube Length | 90mm | 110mm | 125mm | 150mm | 185mm | 205mm |
| Seat Tube Length, BB Center to Top | 425mm | 462mm | 481mm | 501mm | 522mm | 563mm |
| Fork Rake | 50mm | 50mm | 44mm | 44mm | 44mm | 44mm |
| Standover Height | 715.5mm | 743mm | 762mm | 785mm | 813mm | 844.3mm |
| Trail | 58.5mm | 57mm | 61mm | 55mm | 55mm | 52mm |